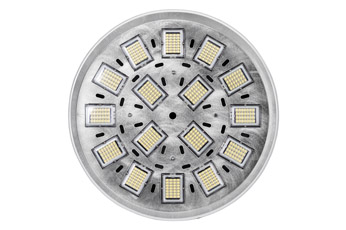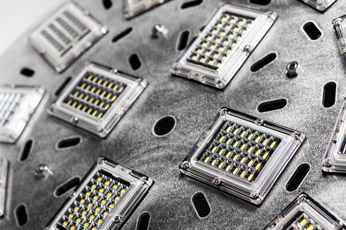 APPLICATION:
The LED high bay series is ideal for locations such as retail stores, storage areas and general open areas. Suited for medium to high mount heights of 20' or lower.
FEATURES:
- Heavy duty die-cast aluminum ballast housing and prismatic refractor.
- Die-cast aluminum ballast housing with a white polyester powder paint finish.
- Easy to change out with other reflectors replace or remove and bottom lens.
MOUNTING:
- Steel hanger comes as standard.
- Comes with steel hook or die cast hook for easy mounting (WHK).
- Pendant splice box threaded for 3/4" conduit or hook mount.
REFLECTOR & BOTTOM LENS:
- Anodized aluminum reflector.
- Available with conical bottom lens and drop bottom lens in options.
- AL16: 16" Diameter reflector
- AL22: 22" Diameter reflector
LAMP:
- High efficient LED modules, components are products of Seoul Semiconductor LEDs. High safety with complete waterproof and thermal emission of LED Module. IP67 rated
- 5000K color temperature standard.
- Color Rendering Index: 77+ Ra.
- Luminous Efficacy: 80 lm/w.
- Input Voltage: 24Vdc
- 60°/120° Beam Angle.
- 50,000 hours.
ELECTRICAL:
- High power factor electronic driver, operates from 90 ~ 305 Vac input range, 50 / 60 Hz.
- Features include over voltage protection, surge, short circuit protection and over load protection.
- All-Round Protection: OVP, SCP, OTP.
- Class 2 and SELV
- Power Factor: typical > 0.92
- Optional 1-10V dimmable driver. (Dimmer supplied by others)
- Minimum starting temperature -4°F(20°C) ~ 122°F(50°C).
- UL8750, UL1012, UL1310 Class 2, CSA-C22.2 No. 107.1, CSA C22.2 NO. 223-M91 Class 2
ELCU-200
- Guarantees emergency lighting remains ON or is turned on when power to the control device is lost.
- Interfaces with fire alarm panel or security system.
- "Watchdog" feature allows emergency loads to be controlled in tandem with normal power loads.
- UL listed for use in emergency circuits.
LISTING:
- RoHS.
- IP20 rated.
- Tested to IESNA LM80 standards.
- Suitable for damp locations.
- 5 years limited warranty.
- 7 or 10 years limited warranty. (optional)
- ARRA Compliant.